Click on Party to see which seats they have won...

Overall Votes

Jamaica Labour Party
245727
National Democractic Movement
0
Peoples National Party
318101
Independents
4047
Jamaica Alliance Movement
0
Marcus Garvey People's Political Party
280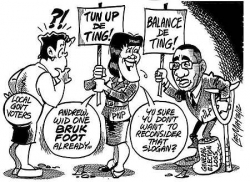 George Lee
PNP
0
%
Keith Hinds
JLP
0
%
Alrick Davis
IND
0
%



Portia joins jubilation


People's National Party President Portia Simpson Miller has joined jubilant supporters at the party headquarters in Kingston to celebrate the massive win in today's Local Government Election.
Holness -JLP future still bright


Jamaica Labour Party Leader Andrew HolnessIn the face of a huge loss at the polls in today's Local Government Election, Jamaica Labour Party (JLP) Leader, Andrew Holness has told journalists that the future of the party is still bright.
Two independent candidates win


Independent candidate Paul Patmore has defied the odds to be elected councillor for the Lorrimers Division in Southern Trelawny.